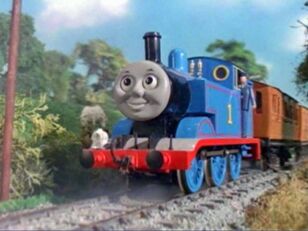 Thomas is a cheeky little tank engine with 3 wheels on the sides. He is virtually the same as Thomas of Earth 1, but has a few minor differences.
Created for the Sodor Railway in 1915, Thomas often wanted to see the world. After saving James, he was promoted from shunting trucks to pulling 2 coaches, Annie and Clarabell. Thomas then became friends of all the other engines. Thomas, modernly has has became more mature.
Ad blocker interference detected!
Wikia is a free-to-use site that makes money from advertising. We have a modified experience for viewers using ad blockers

Wikia is not accessible if you've made further modifications. Remove the custom ad blocker rule(s) and the page will load as expected.