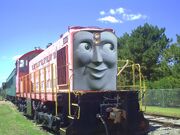 He was made in 1945 for the Santa Fe Railroad. He'd often pull cattle trains on a branch line in the texas panhandle, occaionally He'd take the cattle trains to the Fort Worth Stock Yards or up to Kansas City. In the 1960's He was transfered to the Hutchinson & Northern Railway where He worked a Rock Island sort line until it went bankrupt in 1980. That same year Joe retired up until Sir Topham Hatt bought him. Now he works on thomas' branch line and occaionally shunts or serves as a backing engine.
Ad blocker interference detected!
Wikia is a free-to-use site that makes money from advertising. We have a modified experience for viewers using ad blockers

Wikia is not accessible if you've made further modifications. Remove the custom ad blocker rule(s) and the page will load as expected.