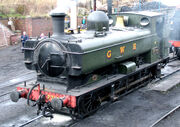 Isaiah is a GWR Pannier Tank Engine that will make his debut in the sister series to Thomas & Friends, The California Railroad Series.
Like Dennis, Isaiah was a "new build" engine on the Great Western Railway. When Mr. Moreno needed a new tank engine, Isaiah was purchased for his railway. Isaiah was very lucky, because he was going to be sent to another railway!
Isaiah is based on a GWR Pannier Tank Engine. Duck the Great Western Engine from Thomas & Friends is another member of this class.
Ad blocker interference detected!
Wikia is a free-to-use site that makes money from advertising. We have a modified experience for viewers using ad blockers

Wikia is not accessible if you've made further modifications. Remove the custom ad blocker rule(s) and the page will load as expected.